Would you like to fill your pocket money? Or would you like to gain your first professional experience? Then you've come to the right place.
You are a student and are looking for a holiday job or want to take up your challenge called "internship" right away. Then come to FERALPI STAHL!
With us you will get a first insight into the world of steel production. In one of the most modern steelworks in Europe, you will get to know the various processes that are necessary for the production of reinforcing steel, for example.
We offer internships and holiday jobs in the following areas: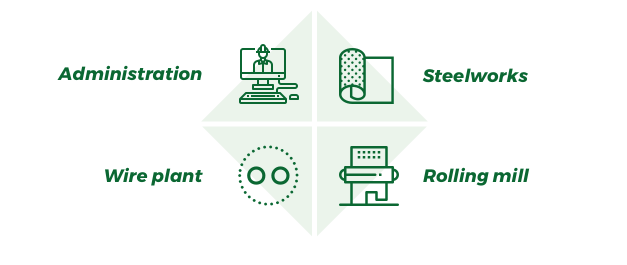 This is what we offer you during your internship/holiday job.
You will get to know the exciting world of the steel industry and gain your first experience of everyday working life. We give you the opportunity to get a taste of different areas and are happy to support you in deciding on your future dream job.
Talk to other trainees or even apprentices and benefit from their knowledge and experience at FERALPI STAHL.
All our colleagues are friendly and simply human - just like you and me.
In addition to a really great working atmosphere, you not only receive appropriate remuneration, but also free water and discounts for our canteen.
You should be able to
A healthy curiosity and commitment always go down well with us.
But what's most important to us is that you have a sense of responsibility. Because in addition to everything nice in our everyday life, caution must always be exercised, because we work with large machines and systems.
Ideally, you have a good technical understanding and are physically resilient. These characteristics are particularly useful for you if you want to work in the steel/wire or rolling mill.
For an internship/holiday job in the office, you should have good German and maths skills and a structured way of working.
Apply now at FERALPI STAHL
If you would like to do an internship with us or even take on a holiday job with us, then apply to us now. We are looking forward to meeting you.